Greenfields projects, Colombia
AngloGold Ashanti currently has three greenfields projects in Colombia, of which Gramalote and Quebradona are at various stages of feasibility study and La Colosa, presently under force majeure.
Gramalote Ownership
50%
AngloGold Ashanti
Quebradona Ownership
100%
AngloGold Ashanti
La Colosa Ownership
100%
AngloGold Ashanti
Mineral Resource
Mineral Resource
---
The Gramalote project, a joint venture between AngloGold Ashanti (50%) and B2Gold (50%), is located near the towns of Providencia and San Jose del Nus within the municipality of San Roque, in the northwest of the Department of Antioquia. It is approximately 124km northeast of Medellín, the regional capital of the Antioquia Department. B2Gold became the project manager and operator in 2020.
Work on the feasibility study continued as planned in 2020 with drilling resuming in May 2020. Feasibility stage metallurgical studies and process plant designs were also completed, while infrastructure design work continues. A revised schedule and budget for the proposed optimisations, continued sustainability projects, further exploration and completion of a final feasibility study is being developed. In light of this, the delivery of a final FS for the Gramalote project will be postponed to the second quarter of 2022. This follows the announcement, in the first quarter of 2021 by our project partners B2Gold. In December 2020, the Gramalote project received the "Sello Social de La Minería en Antioquia", which is presented through the Ministry of Mines of Antioquia to large scale operations, recognising Gramalote for its commitment to community support.
The La Colosa project is located approximately 150km west of Bogota Colombia in Tolima Department and is a very large porphyry-style gold deposit discovered by AngloGold Ashanti Colombia greenfield exploration group in 2006. The project is 100% owned and managed by AngloGold Ashanti. It was halted and has been voluntarily suspended, since 2017, due to force majeure recognised by the national mining authority, relating to environmental permits required to continue the project's mining exploration activities.
For further information
The Quebradona project is situated in the Middle Cáuca region of Colombia, in the Department of Antioquia, 60km southwest of Medellín within the Municipality of Jericó. The project is 100% owned and managed by AngloGold Ashanti.
The feasibility study underway to determine the engineering activities is due to be completed in 2021. Simultaneously, work is continuing on incorporating all findings from peer reviews and promoting the '#Miningwithpurpose' campaign, which seeks to highlight the integration of social, environmental and economic imperatives into the project and subsequent mining operations. The feasibility study (FS) continued to progress in the first quarter of 2021. The FS is expected to be completed in the first half of 2021.
The project is expected to treat 6.2Mt annually to produce 3 billion pounds of copper, 1.5Moz of gold and 21Moz of silver over a potential 23-year life. First production is expected to start in the second half of 2025. Quebradona will be a copper mine with gold and silver as by-products. First production is expected approximately four-and-half years from the start of construction.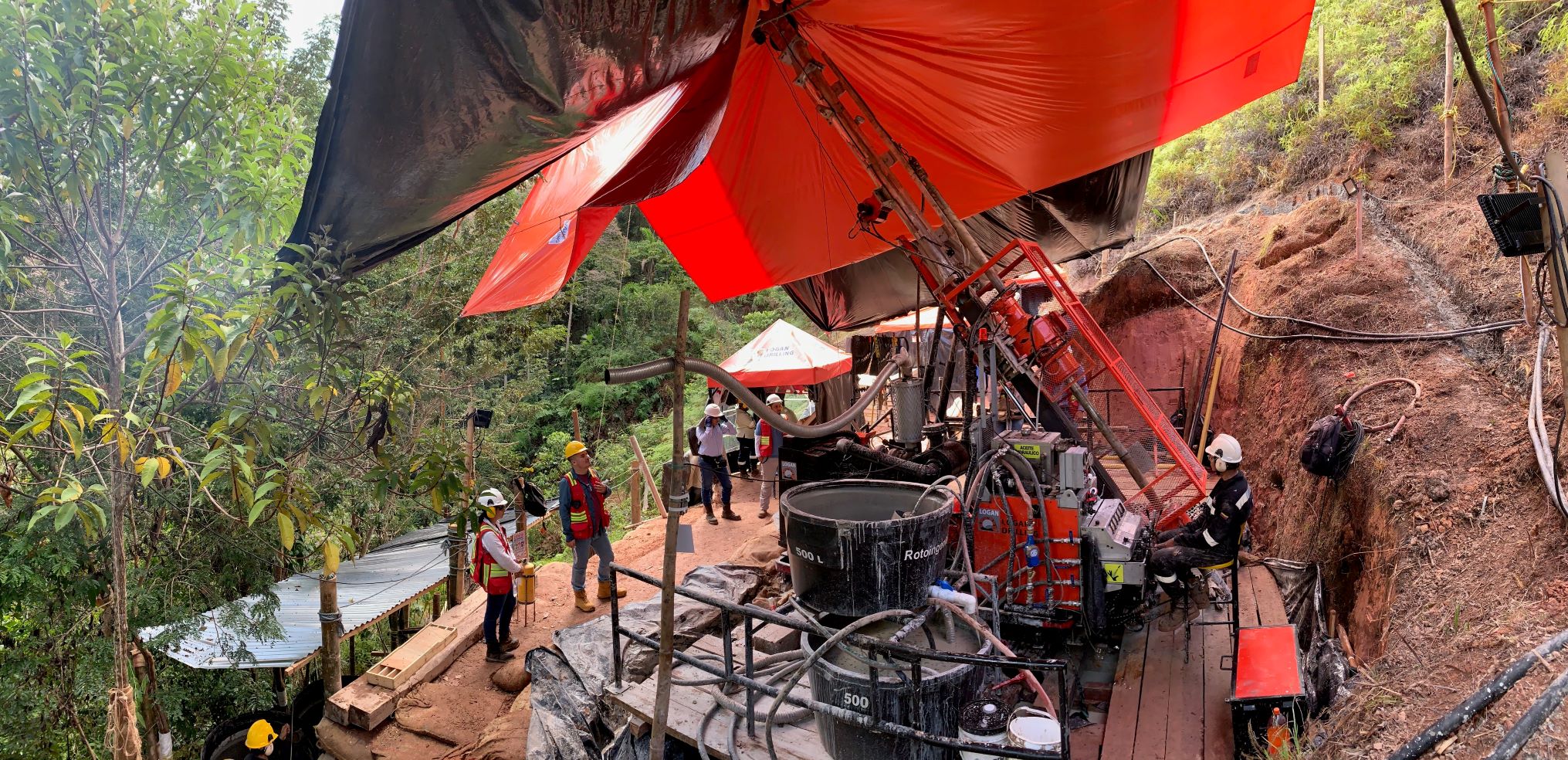 Related stories
Gramalote partners with ASM
The Gramalote project in Colombia, now an equal joint venture between AngloGold Ashanti and B2Gold, is supporting a number of ASM formalisation projects. As in many areas in which AngloGold Ashanti operates, ASM has a long tradition in the area surrounding the proposed mine.
Quebradona Biodiversity Initiative
A ground-breaking plan to create and integrate a park and biodiversity centre into its Quebradona copper-gold project, in Colombia's Antioquia province.
Diversity and inclusion at Quebradona
An interview with Carolina Sánchez, geological engineer on the role of women in mining.